CAMRA was formed in 1971 because there was a real danger that real ale was going to disappear - to be replaced by keg beer. Many brewers had already stopped brewing real ale.
CAMRA in Swindon & North Wiltshire began on 18th October 1974 when a small group of enthusiasts held the first meeting at Wadworth's Brewery. At that time there were very few pubs in Swindon and the surrounding area that served Real Ale.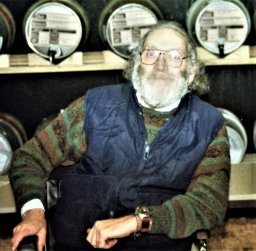 In the early 1970s, the big six breweries were rapidly acquiring such power, that they were telling us that we had to drink what they produced. That was an insipid, straw-colored, gassy concoction, laced with chemicals to provide long life and high profits for the breweries. Who can forget Watney's Starlight and Whitbread Trophy! Then along came the Campaign for Real Ale. Locally its champion was historian, music impresario and ale devotee David Backhouse. He not only created and led one of the earliest CAMRA branches in the country, but began the Swindon Beerex in October 1976, at the time in the Mechanics Institute. This was a building David loved, and to which he left £12,000 in his will, for its future preservation.
It's fair to say that, at least his work to promote proper English beer, has turned out to be a stunning success, with still more breweries and real ale on public house bars, every year that goes by.
The Swindon Beer Festival returns for 2022!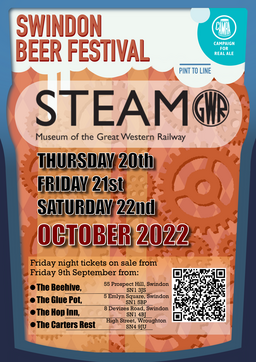 We will once again be at the STEAM Museum from Thursday 20th to Saturday 22nd October.

So please pop the dates in your diary and remember to check out the Our Beer Festival page for further details as they are announced.


How to get to Old Town without walking up the hill: see Transport page