Visits
Corinium Ales Brewery visit - Saturday 11th April 2018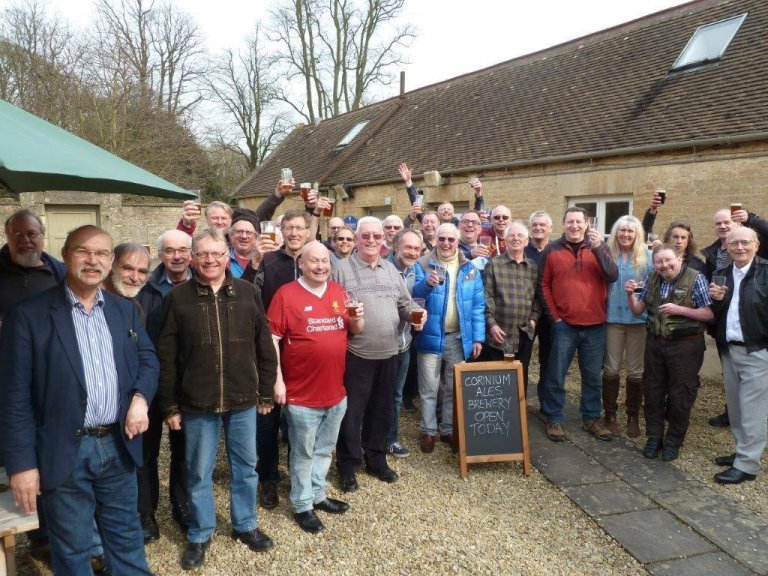 Flying Monk Beer of the Festival 2016 Presentation
As 2016's Beer Festival winner was another local brewery the branch took the opportunity to visit and present the certificate personally.
Longdog brewery visit - Saturday 10th December
Our last trip was to the Longdog brewery in Basingstoke on Saturday 10th December using a vintage bus from the Stroud RE group.

First we spent an hour in Newbury where members visited the Cow & Cask Micropub, Wetherspoons and King Charles Tavern.

We then proceeded to the Longdog brewery where we were able to try 4 different types of ales between 14.00 - 16.30.

Unfortunately the planned stop at Wantage on way back home had to be abandoned because the bus battery was not charging and we couldn't risk stopping.



Ramsbury Beer of the Festival 2014 Presentation
At the 28th Swindon Beer Festival in October 2014, Ramsbury Brewery won the 'Champion Beer' prize, with their Belapur IPA. On the 7th February 2015, this branch organised a visit to the brewery to present the certifcate.
Here is a short video of the visit:























Recent Brewery and Pub Visits
These are brewery visits and presentations of certificates

| | |
| --- | --- |
| Date | Brewery |
| Saturday 20 July 2019 | Stroud Brewery |
| Saturday 11 April 2018 | Corinium Ales Brewery |
| Saturday 8 July 2017 | Bond Brews |
| Saturday 11 March 2017 | Flying Monk Brewery |
| Saturday 10 December 2016 | Longdog Brewery |
| Saturday 9 July 2016 | Vibrant Forest Brewery |
| Saturday 26 September 2015 | Red Cat Brewery |
| Thursday 30 July 2015 | Box Steam Brewery |
| Saturday 28 March 2015 | Twisted Brewery |
| Saturday 2 August 2014 | Gyle 59 Brewery |
| Saturday 14 June 2014 | Bristol Beer Factory |
| Saturday 5 April 2014 | Gloucester Brewery |
| Saturday 14 September 2013 | Wild Weather Ales |
| Saturday 6 April 2013 | Ramsbury Brewery |
| Saturday 16 February 2013 | Sherfield Village Brewery |
| Saturday 22 September 2012 | XT Brewing Company |
| Saturday 30 June 2012 | Two Cocks Brewery, Enborne |
| Friday 1 June 2012 | Barge Inn, Honeystreet |
| Saturday 3 March 2012 | Ramsbury Brewery |
| Wednesday 16 November 2011 | Weighbridge Brewhouse |
| Saturday 11 June 2011 | Box Steam |
| Saturday 28 May 2011 | Shoulder of Mutton, Wantage |